Hi, I'm Scott.

I have been a Certified General Motors technician for 38 years fixing mainly transmission,
transfer cases, and all driveline problems on Chevy, Buick, Pontiac and Oldsmobile vehicles.

I always take pride in doing my best to correct any customer concern.

I have been married to a beautiful woman for 35 years, have a great son, and I love animals.
I have had nearly 35 pets over the years. From horses to cats and dogs. And I have saved
numerous wildlife.

Need help?



Transmission Technician SF Bio Page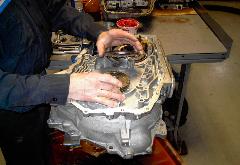 A few recent question i have answered
HERE
.


More Auto Repair Answers, Questions And Help
Electrical Testing Belt Diagrams Mustang Engine Overhaul All about Tires
© Copyright 2006 . JRKAZ,Inc.
Contact Us
Terms And Privacy Policy