Mechanic JK Bio Page
I've worked as a Certified General Motors technician for over 20 years. I started with Oldsmobile in the late 1980's, then when Oldsmobile went out of business several years ago, I went to a Chevy, Buick, Pontiac dealer and been with them ever since.
I work on most everything from Driveability to ABS, S.I.R., to suspension, and all things electrical. I am married with three kids, love baseball (Go Cubs Go !), football and fishing.
I am ASE certified in all categories.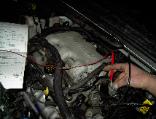 A few questions i have answered HERE