Mechanic JK Bio Page

I've worked as a Certified General Motors technician for over 20 years. I started with Oldsmobile in
the late 1980's, then when Oldsmobile went out of business several years ago, I went to a Chevy,
Buick, Pontiac dealer and been with them ever since.

I work on most everything from Driveability to ABS, S.I.R., to suspension, and all things electrical. I
am married with three kids, love baseball (Go Cubs Go !), football and fishing.

I am ASE certified in all categories.


A few questions i have answered
HERE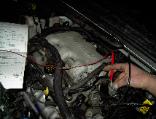 More Auto Repair Answers, Questions And Help
Electrical Testing Belt Diagrams Mustang Engine Overhaul All about Tires
© Copyright 2006 . JRKAZ,Inc.
Contact Us
Terms And Privacy Policy
Debbie said:
2007 Honda while riding as a passenger up front noticed the vibrations in the seat. What kind of problem is this?

---
Bob said:
@Debbie, If the vibration seems to be in relation to vehicle speed, then most likely a
tire
or wheel out of balance, or even a bent rim

---
dave said:
I changed battery in my 2003 GMC Sierra. Now it blows only cold on drivers side and only hot on passenger side regardless of dual control settings I
also get a clicking noise for about 50 count. Like tapping on formica tabletop? Any suggestions anyone?

---