Welcome to my page!

I am 52 years old and have been in the business since I was 17.

From local garages to a speed shop in the late 70's to early 80's, to General Motors
certified technician for 22 years.

I do mostly engine work and all electrical / drivability related to that.

From Oldsmobile to Buick, to Chevy, GMC and Pontiac.



Technician KK Bio Page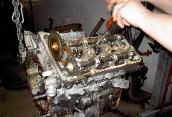 More Auto Repair Answers, Questions And Help
Electrical Testing Belt Diagrams Mustang Engine Overhaul All about Tires
© Copyright 2006 . JRKAZ,Inc.
Contact Us
Terms And Privacy Policy