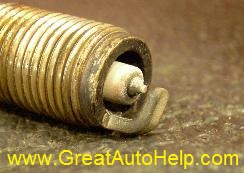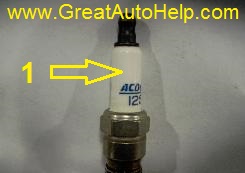 This is a plug with 75,000 miles on it that is
firing normally. No large deposits, not
discolored . Reddish or green deposits
indicate burning coolant. Black, sooty
deposits indicate burning oil.


Also check for hairline cracks in the
porcelain insulator (1).



Platinum / Iridium tip spark plug inspection

Some popular car repair articles

Car maintenance
-
A list of some common auto maintenance checks that you can do
yourself. Check fluid levels. Adjust tire pressures. Drive belt inspection, etc. Pictures
videos, and more.

Automotive questions
-
Browse lists of some previously answered questions. Choose
your vehicle by Make and Model and read articles our expert mechanics have answered.

Check engine light
-
Also known as the SERVICE ENGINE SOON or SES light. This
indicates a malfunction in the engine control and emissions systems of your car. Step by
step instructions on how to do a simple scan to check for
computer trouble codes
. These
codes give an indication as to what system is having a problem.

1-31-11
want location of fuel filter on 2002 buick v-6 3800 model

Comments

That depends on what model Buick you are talking
about. It is either on the right or left side of the fuel tank.


Inspecting Spark Plugs for Cracks And Wear

More Auto Repair Answers, Questions And Help
Electrical Testing Belt Diagrams Mustang Engine Overhaul All about Tires
© Copyright 2006 . JRKAZ,Inc.
Contact Us
Terms And Privacy Policy