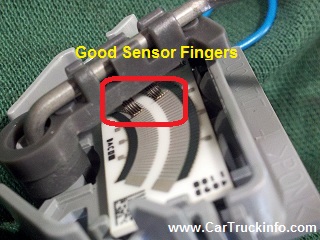 Gauge problem on my 2004 PONTIAC Grand Prix. Regular Oil change and air filter changed.
Hi,First of all thanks. When in the morning I start my car it starts ok but after the first start when I start it
again it starts ok and does the gauge calibrations/checks (move all the gauge needles to end point
andcome back) and then tries to stall.

Two times on different days it did stall and I had to push the gas paddle to keep it started. Any reason
why its doing this? I tried to look for a fuel filter and looks like for this car the filter is in the gas tank and
could not find it Online please Help thanks.

Answer:
The problem you are describing with the gauges sweeping by themselves, then stall or near stall, could
be a few things. Would suggest a scan of the computers to see if any codes stored. A faulty ignition
switch can cause several odd electrical problems / failures. Tapping on the ignition key when running
can sometimes reveal a faulty ignition switch.

There is also a service bulletin describing one or more gauges going to zero then a stall. A problem of
high resistance in the battery ground cable to upper frame rail is the cause of this. Along with a PCM
re-programming.

---
2004 Pontiac Grand Prix GTP. 3.8L Supercharged. Check Engine Light codes P1404.
Question: I need to replace my egr valve. I am not a mechanic and have access to basic tools. Is this
something I could possibly do myself in my driveway?

Answer: Yes, this is not too difficult to replace the EGR valve on your Grand Prix. See this link for the
EGR Location 3800. Just disconnect the electrical connector. Then use either a swivel socket- 10mm or
13mm to remove the 2 bolts that hold it on. If you do not have that tool, just use a basic wrench.
Counterclockwise loosens all bolts. Be sure to replace the gasket as well.



;

More Auto Repair Answers, Questions And Help
World Of Wheels Electrical Testing Belt Diagrams Mustang Engine Overhaul All about Tires
© Copyright 2006 . JRKAZ,Inc.
Contact Us
Terms And Privacy Policy


Pontiac Grand Prix P1404 EGR- The Gauges Sweep At Times

2004 Pontiac GTO 5.7 liter.
Question = fuel gauge indicates full. Tank is about 1/4 full. When i attempt to add fuel it
acts as if the tank is full and shuts the fuel nozzle off immediately. i have tried to fill up at
other stations thinking maybe the pump was faulty but same results.

---
Answer:
OK. You have one, maybe two problems here.

The most common cause of an inaccurate fuel gauge is the sending unit in the fuel tank.
This part has small metal fingers that control the gauge in the dash. They tend to corrode
away and give false readings. This will not effect trying to fill it.

Problems filling the tank are usually caused by what is called the EVAP vent valve. When
they stick closed, it causes backpressure in the fuel tank when trying to fill it because the
air cannot vent . That part is located in the drivers side rear wheel well. This can also
cause a check engine light but not always.