Oldsmobile Cutlass Supreme Thermostat Location
Question:
ENGINE RECENTLY STARTED TO OVERHEAT. I ADDED ABOUT A LITRE OF WATER DIRECTLY INTO THE RADIATOR. I WAITED APPROXIMATELY 20 MINUTES, THEN I TOOK THE CAR FOR A RIDE. THE TEMP GAUGE STAYED WITHIN NORMAL LIMITS, UNTIL I STOPPED. THE TEMP GAUGE CLIMBED INTO THE RED ZONE WHEN I LET IT IDLE.
COULD THIS PROBLEM BE THE WATER PUMP OR THERMOSTAT? BY THE WAY, WHERE IS THE THERMOSTAT LOCATED ON THIS ENGINE? 3.1 LITRE ANY HELP WOULD BE GREATLY APPRECIATED. THANKS
Answer:
See picture below. It could be a t-stat sticking. These engines known for lower intake gaskets leaking internally and externally. Also the rear headgasket for leaking externally, or allowing combustion into the cooling system. Temp. Gauge normal while driving, but overheating at idle could also be cooling fans not running, or a restriction in the cooling system- mainly the radiator.
The t-stat is inside the housing that the upper radiator hose is attached to. It is under the exhaust crossover, held on with two 13mm bolts and is difficult to reach. Removing the throttle body helps.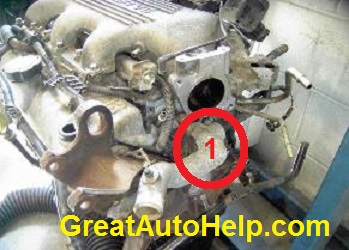 Question:
WHAT'S THE PROPER WAY TO FILL A COOLANT SYSTEM TO WHERE THE LOW COOLANT LAMP DOES NOT LIGHT. I FILL IT TO WHAT I THINK IS THE PROPER WAY BUT THE LIGHT STILL REMAINS ON. SOME VALVE NEAR THE THERMOSTAT HAS TO BE UNSCREWED TO WHERE YOU SEE THE COOLANT REACH ITS PROPER LEVEL?
Answer:
The screw you mention that is on the coolant bypass pipe is for bleeding the air out of the system only, not to check the level or set the level. If you're just adding coolant to top off, you don't need to loosen that screw. If the system is empty or extremely low, it is best to open up that screw while you add coolant to help bleed the air from the cooling system.
If you're low coolant light stays on after you've topped off the system, you've probably got a bad coolant level sensor. It would need to be replaced then to fix your problem.