Replacing a broken Heater Air Conditioning Temperature Control Door in the Dash.
Not for the do-it-yourselfer mechanic.

Before and after pictures below.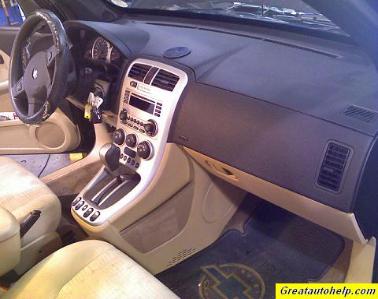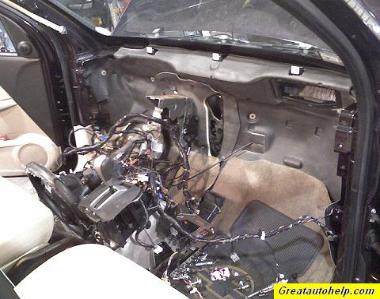 BEFORE

AFTER

Comments

10-16-10
Can they damage your car by replacing it.

With the amount of work involved in this
repair, it is possible to damage something
along the way.

3-23-11
anybody can damage your car if they hack their through it! I have done these. I
wouldn't try this at home as the dash does have to come out and the heater hoses
have to be disconnected along with the air conditioning has to be emptied and
disconnected so the heater box can be taking out. These pictures are pretty
good!!!

3-15-11
what a friggin mess. No wonder they dont make pontiac anymore.

9-3-11
is g.m going to put them selfs in the hole again and get the tax payers to bail them
out again for building junk and not be responsible enough to repair even safety
problems with these things that any other company would recall???

10-6-11
Mine just went in to the shop for this repair. $1472.

12-9-11
I have talked to so many people who have this same problem with these heating
doors. If G M don't get their act together soon, we'll have to pull the engine just to
change the oil. I'm going to trade this piece of junk!!!

3-12-12
Add me to the list of 2006 Torrent owners with the same problem.

3-27-12
Time for a recall! Just had this exact same problem.

3-30-12
I'm having the same problem with heat now but My problem started with AC first
after I made them fix that problem I now have no heat I think they hack the job so
they can get me of there hair I think I have AC will see when the worm weather
comes. 2006 Equinox

My husband just had the same problem. Estimate of $904 to fix and GM will give us
a 25% discount but that's it. It should be a recall, but it's not. Won't buy a GM
vehicle again.

A common problem for having no heat or cold air coming from the vents of your Chevrolet Equinox
or Pontiac Torrent is a broken temperature door. This part is located behind the dash board. It is
controlled the heater A/C head to adjust the temperature you want.

Most of the time you will notice this as the weather and temperature changes. You will then try to
change to A/C of heat, and find out that there is no change in the air coming from the vents.
When you take your vehicle into the shop or dealership you are amazed at the cost to repair this
problem. The part only costs about $29, but the labor to remove the entire dash and related
components is extremely expensive.

Add us to the list too, it was a mess to repair. I have the exact pictures as above.

We just got a notice this week that GM is extending the warranty on the HVAC
temperature valve on our 2006 Torrent for 10 years or 120K miles. So far we
haven't had any problems. They also sent a Customer Reimbursement Request
Form if you had already paid for a repair.

Hey everybody. My Equinox did the same thing but i wrote them a real ugly letter
and they responded by sending me a letter ti get it fixed at no charge. Well when i
got up there the manager told me they charge people that much but the secret is
they dont take the dash apart no more. This year chevy has made a sleeve. U
take the actuator motor off and pull out the broke piece (which u can) and slide the
sleeve on the door and you are done. He said there not telling people that so they
can charge them to pull the dash.

i called 2 gm dealers in last week with the same heat and air problem. My wife froze
all winter and burn up all summer. They got serial no. Said to bring it in. One said it
would be over a 1000 bucks to fix. got a letter from gm that day. Called another gm
dealer said bring it ,they said letter wont cover my problem. Because air blows out
the vents even tho its hot air now and cold air in the winter. i see why foreign cars r
taken over.

We bought our 2006 pontiac torrent brand new our warranty ended after 30000
miles. After 40000 the heater air conditioning temperature control door broke. We
took it to the dealership and charged us $1200.00 in labor the part was about
$20.00 and yeah the whole dash was removed a whole mess. I wish that we had
never bought this P.O.S but oh well you live and learn. I myself own a nissan
frontier, just a heads up.

My heat does not work and my ac works too good. Help. Blows 30 degrees no
matter what!

Add me to the list. I am going to fight GM on this.

I HAVE A 2006 PONTIAC AND JUST TALKED TO GM TODAY. THEY SAID THAT I
MAY HAVE A FRACTURED HEAT VALVE WHICH IS COVERED BUT IF ITS A
BROKEN BLEND DOOR SORRY FOR YOUR LUCK. PLEASE TELL ME WHAT WE
AS CONSUMERS CAN DO ABOUT THIS BULL----



More Auto Repair Answers, Questions And Help
Electrical Testing Belt Diagrams Mustang Engine Overhaul All about Tires
© Copyright 2006 . JRKAZ,Inc.
Contact Us
Terms And Privacy Policy


Chevy Equinox And Pontiac Torrent Temperature Door Replacement