Chevy Trailblazer Low Beam Headlights Not Working
Question = The low beam headlights on my 2004 Chevy Trailblazer dont work. They both went out at the same time. I replaced both bulbs even though I would not think they could go out at the same time. Fuses are all good. What can I do to repair this problem. Head light Problem with my 2004 Chevrolet Trailblazer Truck. 4.2 inline six. Repairs for this problem = Replaced both headlight bulbs and checked fuses.
Answer: As long as all the fuses are good, and the high beams work correctly, then the common problem is a faulty headlamp relay. See picture below. This relay is in the under hood fuse block. A lot of the time it is overlooked because it is labeled "HDM". See picture below. This applies to 2003, 2005 and 2006 Trailblazers also.
Most people dont realize this is for the headlamps. An easy way to check that is to swap it with the same type relay that is right next to it. Turn the key off, swap relays, turn key on, then turn head light switch on. It they come on, replace the bad relay. It costs approx. $35.
Read More Below Or See These Related Articles: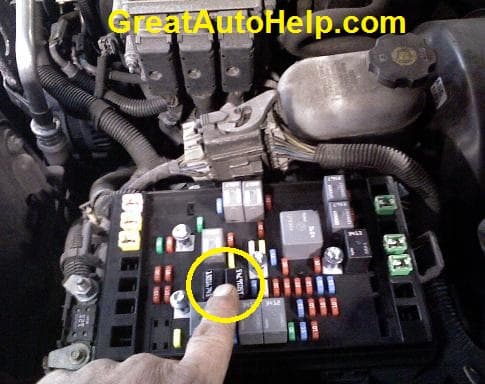 I LOVE you guys!! I've been driving with my bright lights on for about 2 weeks. I did a google search today and found you.I fixed it and it only took me 10 minutes,$37 part and I didn't even break a nail. I am NOT mechanically inclined, but today, after fixing this, I feel like I can do anything! Thanks!

Thanks. The part fixed the problem cost $40.00 like you said. saved hundreds not going to a shop.

I have 2002 GMC envoy had same problem with low beams not working. Changed bulbs $28 then checked fuses no luck. Look on here and went to garage instantly and did what the pictures showed and it worked!! I will go buy that little thing now. Thanks for saving me $$$$.
Was at alot of sites and no one seemed to know what the problem was or spent alot of money on proffesionals and did not get any where. Seems to me people try to over think easy solutions or try to get money for it. You saved me tons of time and money M y wife thanks you and so do i. thank you.
I looked up "both headlights went out on a chevy blazer 2006" your website came up. I read it to my husband, five minutes later he said, that was the exact problem. Thank you very much.
Same problem on my 2004 GMC no low beams. Checked fuses. Switched the things like shown in picture and the lights worked. Swapped back in original position and the lights are still worked.
Awesome! Worked for our 2004 trailblazer. Thanks for great advice!
Thank you so much I was about to take the car to the dealer and was afraid of the bill, thinking it may be a electrical problem. I had changed the bulb and looked at the fuses and the relay. Never knew about this part. (problem solved) 2006 Chevrolet Trail blazer!
2004 trailblazer headlights. Thanks a lot, it really helps me, and avoid to pay someone to check my headlight. Thank you.
We just recently had the same problem on my 2002 Chevy Trailblaer & after replacing bulbs & switches, found the answer online! Even the dealer couldn't help. Tried switching from picture & problem solved! Thank you!!!!
2004 GMC Envoy Have the same problem with my light. I thought I could find the problem But NO . First time I have ever looked on line for help. Thanks to you there fixed!!!!! Thanks
Amazing!! Replaced fuses and bulbs on my 2002 GMC Envoy still no head lamps!(needs a recall by the way!)-auto parts store was no help-u were-Thanks!!
2004 Chevy Trailblazer,low beams out, switched them and both hi and lows work now. Of coarse I went through all the bull before I found this very helpful site.
I can not thank you enough. Three different mechanics, numerous opinions and staring down the possibility of an $800 wiring issue (Chevy dealership)I found your website. I felt so unbelievably empowered when I went to the auto store ordered exactly what I needed, popped the hood, and replaced the fuse myself.
Comments Page 2 ⇨