Ford Mustang 5.0L Piston Cleaning And Inspection


;

More Auto Repair Answers, Questions And Help
World Of Wheels Electrical Testing Belt Diagrams Mustang Engine Overhaul All about Tires
© Copyright 2006 . JRKAZ,Inc.
Contact Us
Terms And Privacy Policy
Now that we have removed the pistons from the engine we need to clean and inspect
them. If there is any major damage, they must be replaced. First picture is a piston just
removed from our Ford 5.0L engine. Next picture shows how good it looks after cleaning.
Read below how we clean and inspect the pistons, connecting rod and skirt.

First, remove all of the rings from the grooves. To clean the Ford pistons, we soak them overnight in a
solvent tank to help remove the oil, carbon, dirt and grime. Use a stiff brush after they have been soaking for
a while. You can use a red 3M abrasive pad to polish the piston. Do not be too aggressive as to not damage
the aluminum piston. Inspect the ring grooves for any damage. Inspect the piston for any cracks or gouging.
The skirt will have some wear. This is normal. See the service manual for your particular year for measuring
procedures of the width of the piston. If out of specification it must be replaced. Inspect the connection rod for
damage of major discoloration. Replace as needed. In our case, we just needed to get them clean, none
were replaced. Also be sure to clean the top of the piston. This
is
w
h
ere you will find most of the carbon
buildup. Some scraping may be needed.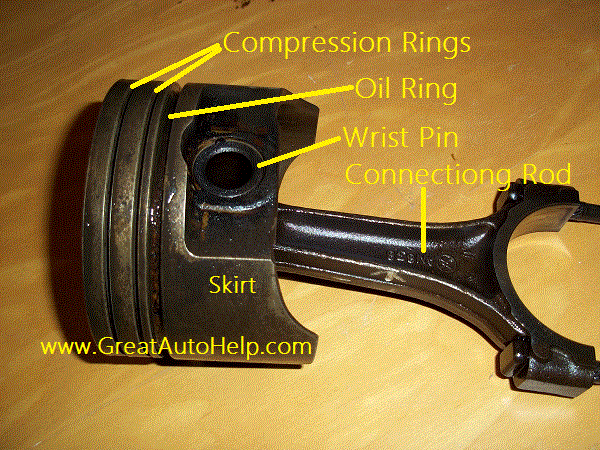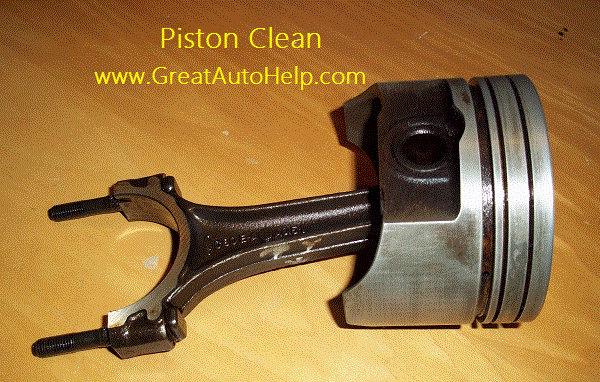 This is what our Ford piston looks like after being cleaned. Note that there is still some wear on the skirt,
this is normal and is not considered a problem. Inspect the threads on the piston rod studs for any
damage. If any damage found they must be replaced. Make sure the piston moves and rotate freely on the
piston wrist pin. If there is nay binding, either the piston of pin is worn and must be replaced. This is done
with a press. There are specifications in the manual for how much play is normal. There are many
measurements to do on the piston, rod and pin in the repair manual. Be sure and check them all. You do
not want to have a problem later since engine removal would be needed again.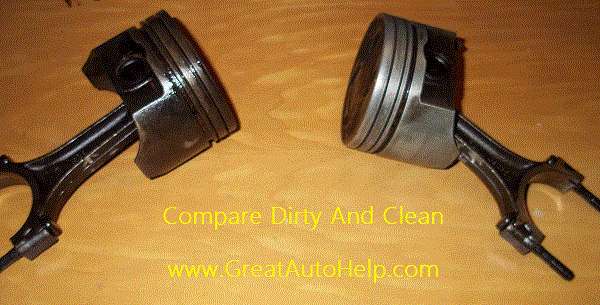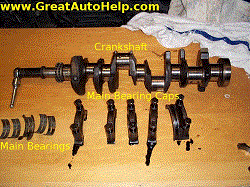 Next page >>
Coming soon...

Comparison of the Ford Mustang piston before and after cleaning. Now the piston
rings can be installed and the piston assembly installed back in the engine. We will
show that is later article pages.