OK. Well that is a lot to go over.
1. The service engine soon light could be any number of things. The computer is seeing a problem in the emissions controls or other engine systems. You need to get it scanned for trouble codes to even take a guess as to what may be wrong. Most of the large national parts store chains will do this for free.
2. The ABS and red brake are most likley related. First check the brake fluid level in the reservoir under the hood. If it is low, that can cause both lights. Or you have an ABS problem causing both lights. Again, another computer that would need to be scanned. Most common problem on your Oldsmobile Bravada truck is a bad front wheel speed sensor. One on each wheel. For the front, the sensor is part of the wheel bearing / hub...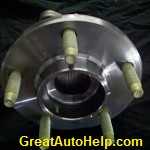 3. The service 4 wheel drive light could be caused by the ABS problem. I would get the other problem repaired before getting into this one.
4. The fuel gauge problem is probably the fuel level sensor in the tank is bad. That is VERY common. See picture below.