Most Recent Oldsmobile Questions And Answers
I have a 2003 osmobile alero its leaking oil and we have to keep adding oil. Any idea what the problem might be? ...
1998 olds 88 parked it a couple years ago. it would start fine and run good until warmed up then would die. wouldn't start again until it cooled off. now tried to start it with new battery and only clicks. What do I do to get it started and what do I fix to keep it running when it heats up? ...
i have a 94 olds eighty-eight royale,i am having trouble with it dieing at slow speed,it is very easy to start back,well also put a new master cylinder on the anti-lock brakes but now all it does is chime that there is no fluid in it and the brake light and the anti lock brake light stays on,been told the anti lock brake motor is shot,and it will cost a lot to get it fixed,any help wqould be appericated thanks ...
I recently just changed out a battery in my 93 Cutlass and now all of a sudden i dont have dash , tail or head lights and i checked the fuses but they are fine this 93 cutlass has a 3100 v6 motor PLEASE HELP.. ...
We bought this used. Been running fine but all of a sudden lost most of my lights.
My dashboard light went out. Now my inside lights are gone. I also lost my brake lights and left turn.
I found two burnt fuses and replaced them but that didn't bring them back. My left turn now blinks barely.
I can't drive at night since no rear lights at all.
When I open the door I now get a constant beeping or bell that I don't recall having before. You know like when you leave the key in or headlights on.
I have looked through the manual but nothing that helped solve this stuff.
Hope someone has some ideas, we can't afford another vehicle right now.
THanks
Mark ...
location of oil sending unit on 97 olds cutlass 3.1 litre ...
i need to find out what the name of the part is that the wheel assembley wheel hub and brakes are attatched to on my 1990 oldsmobile 88 royale. ...
I HAVE A 1994 OLDS CIERA 3.1 I HAVE NO HEAT, PUT IN A NEW HEATER CORE THAT DID NOT HELP, BLEED FOR AIR POCKETS, AND NO HEAT YET, AM RUNNING OUT OF THING TO DO, CAN ANYONE TELL ME WHAT ELSE CAN I TRY. THANKS ...
I have a 2000 olds silhouette that I just put a new fuel pressure regulator on. After replacing it, I started the van and immediately began smelling gas. No gas was leaking around the regulator or anywhere that I can see, but I did notice that the exhaust is blowing white. I went ahead and changed the PCV valve and it still is smelling and blowing white. Any ideas what this is? The only thing I did when changing the regulator was remove the fuel pump fuse to depressurize. I put it back once I was done. The van is running good, it just stinks pretty bad. Could use your help. Thanks ...
it's a little bit hard to try and diagnose noises without actually hearing them. If you thought it was coming from the blower motor did the noise change with the different speeds of the blower motor? as in, a higher speed the noise got louder or faster? does the noise change when it is in fresh air or recirculate? does changing the mode doors change the sound or change where it sounds like it's coming from?

When you changed the blower motor did you look to see if there was any debris that could have gotten into the plenum? I have had cars come in that have had leaves, pine needles and little twigs in the blower. But the worst things were dog food, a mouse had stored up the customers dog food in the blower fan, sounded like gravel when you turned the fan on, and a few times the actual mouse was in the fan. They died there and put the fan out of balance. Shook the whole dash when the fan came on.

you could also have things that have dropped down the defroster vent that will get stuck in the door to the defroster. I have also had cars that the recirculate door is right behind the glove box and an over stuffed glove box overflowed stuff that was sucked into the duct or blocked the vent.

so, does the noise come on with the fan on low? does it change with the fan speed? does it change when you change the blend door, mode door or recirculate door? Where does the noise sound like it is coming from? can you feel it when you put your hand on the plenum? can you reach the door actuators and see if they feel like the noise is coming from one of them? ...
we have a 95 oldsmobile cutlas seira sl 3.1l, car started running rough and on my way from takeing kids to school it died at a stop sign. i tried restarting it and it acted like it was out of gas. we have since replaced the fuel pump and the computer were the glove box is. it will try to start but then after that first time it won't do anything. please if some one can help that would be great. thanks and sorry about the misspelled words. ...
I am trying to get the diagnostic codes. I don't see the a,b jumper.
this is a 3.1L. The plastic cover says data link and its located just below the steering column. Confused

...
ok I had another post on this, but found a bad head gasket, and fixed it. rebuilt whole top end, rebuilt heads, new gaskets, the works. When doing this, I found the cam sensor wires were all taped up by previous owner, from heat damage, so I replaced the plug. also one other thing to add- right before I did the heads, i got a code for the cat converter. Using my scanner, I ran some test to see if the o2 sensors were good, and they checked out, so I bought a new Cat converter

Before the head gasket, I was getting P0327, and replaced the knock sensor with an Autozone sensor, code came back so I replaced it AGAIN with a real GM knock sensor. Code came back again, and I checked for 5v at the wire- no voltage, so I checked for continuity and voltage AT the computer. I actually cut the wire and separated it from the circuit, and got nothing, but wire shows continuity TO the sensor

I finally gave up and took it to a Chevy dealer. after an hour, they called and said that the computer and sensor checked out, and they needed another hour to check wiring, at another $110 an hour. I said sure, then they called me back to say it WAS the PCM. Confused, I went up to the dealership with a used PCM that I had bought earlier, and asked them to put it in, and program to my car. They said they would but couldn't guarantee it. I had actually installed it previous to the head work, but it didn't make a difference, probably due to the bad valves, and leaking head.

It took a whole day, but the CEL came back on, and sure enough- EFFING KNOCK SENSOR! I am really at my wits end here- here's some thoughts I need confirmed
1) if the cam sensor wires were shorting out- could it have damaged the PCM? And wouldn't I have thrown a code for the cam sensor? Thinking back, I did install the new used PCM before I found the wires that were all taped up under the intake manifold, and I don't know if they were really shorting out although it was a horrible taped up mess
2) could something else in the ignition circuit (IE either of the 2 crank sensors, cam sensor, or the ICM be malfunctioning, or shorting out causing the PCM to screw up the knock sensor circuit? I know these are all part of the ignition circuit

Please help- any ideas appreciated. I'm beginning to think someone died in the car and it's haunted ...
So the car will start run for maybe 4 secs and stall immediately. It will remain running if i give it gas and open the throttle up. Was told a few things fuel filter, fuel pump, possible injector. I just replaced the fuel filter and i just want to get a definite as to what i should get/do next so if any suggestion please do not hesitate. ...
I have a 2000 olds silhouette Premere. When I start it i feel a steady vibration in the steering wheel and there is an intermittent pulsating on the RPMs. I don't notice either of these issues once I start driving. I do still feel the vibration in the wheel when I'm at a stop light. Sometimes after i start the van, it will die on me, but not every time. I've had it scanned and it indicated there was an issue with the fuel system, but gave no specifics. Any ideas what this might be? Please advise. Thanks. ...
The low beam light do not work. Fuze is ok no problem with that. ...
Where is the oil sending unit located on an 2003 Olds Silhouette van v-6 front wheel drive? If you could supply a diagram it would be most helpful. Thank you, chevelle33. ...
98 olds 88 3800 v6 hard to start runs rough then clears up , no acceleration, then when it gets warm starts running rough again then stalls wont start again until it cools down I have replaced idle control valve, map sensor and oxygen sensor ...
A parts store scanner said I needed an EBCU. I bought one that is connected to the EHBM (I'm guessing called the 'motor.). I doesn't look hard to replace the unit, but there are several brake lines screwed into it. What about bleeding these lines? A friend of mine who runs an "old-school" brake shop says he could bleed them manually, but is not at all certain that is how it's supposed to be done. He worries that if we do it wrong, there may be no brakes; and I'd need to have it towed to the dealer.
Words of wisdom? Caution? ...
Three times in the past two days the car has shut down while driving: everything - motor, electronics. It comes right back on and if I'm driving over 20-25MPH the motor kicks back in. The time I was going slow I had to stop and throw it in park to restart (didn't try neutral). Anyone have any ideas? Could it be the ignition switch? ...
I replace the 10 amp fuse, sometimes blows instantly. Disconnect batttery, hook back up I everything works fine. Shut the passenger lost everything, went to put in new 10 amp fuse and sparks arked and blew. Now fuse will go in, doesn't blow it and I still don't have any gauges or Temp control system works. Tech worked on it, could not find anything wrong with grounds, fuse block or wires he could see. Talked about an extensive amount of different "modules" to try and replace. Any thoughts? ...
I have a 1994 cutlass ciera. I drive around all day with no problem. But sometime i can't get it over 45 mph and it will start it overheat. Also seems like the brakes are on as it slows down fast with no brakes applied. If the car sitting for a while all is well again. Whats up with that ??? ...
Need some help I have a 2001 Oldsmobile intrigue 3.5 v6 have a code 0171 and code 0133 I have replaced 02 sensor up streem crankshaft position sensor pcv valve fuel filter mass air flow sensor throttle body positioning sensor air idle control valve air cleaner Still have code 0171 and 0133 to lean check fuel pump pressure reads 38 to 42 pounds check for intake vacuum leaks what else could be wrong.thanks rich

update found the problem with a smoke test throttle body shot so for if you have a vacuum leaks and can't find the source check your throttle body ...
So, where do I begin!
My 1996 Oldsmobile Bravada Truck started with low coolant levels and I filled it back up and every since then I have had a coolant leak. I just got a new waterpump put on and before that, no one could find out what was wrong with my truck. No one knew where the leak was coming from. For the most part, there are no signs of an internal leak. No white smoke, no air bubbles on my oil stick and nothing white under my oil cap. Every morning, I check my fluids and if there are any fluids on the ground. My fluids are always low and it takes 1-2 cups of antifreeze a day. This problem is sooooo annoying, someone PLEASE HELP! The water pump has not changed my coolant leak. I thought it could be a hose/clamp but I had a guy check it out and he said it looked good. There is never anything in my overflow either whether its hot or cold. There is also this sloshing like noise in my dash and its everyday when I accelerate and brake.
PLEASE HELP!!!

...
I have a 1999 olds cutlass 3.1L, the temp gauge has a few times shot up past where it normally runs but then it dumps back down to where it normally goes and runs just fine. The other day it kept going up and no heat was coming out of the vents at all. The gauge kept climbing up to 260 where the light kicked on, new symptom never seen before. I got it home when I was almost home it killed then started back up and ran just fine. Want to know if its the thermostat or something worse. ...
Hey, new guy here, intermediate mechanic.I inherited a 03 alero, with a 3.4. Previous owner had overheating problems and a horrible mechanic, When I got it, the heater bypass was disconnected from the thermostat housing (wonder why it was overheating the last time?- lol) Anyway, I bolted the pipe back up, and put some coolant in it. Runs fine, gauge about half way up. Been driving it around to get computer to reset, as the car had been sitting a few months, now I have white steam coming from tailpipe, but no water in the oil that I can see. Previous owner said it was throwing the service engine light, and that has finally come on again. Was waiting for the light to check codes, but the white "fog" is a surprise as it wasn't doing this at first. I have a stack of paperwork from the bad mechanics that says they replaced the intake gasket, but from the absence of fasteners, and evidence of bad work, I wonder if this might be my problem still or a head gasket. Anyone ever see one of these engines steam, and not get the oil contaminated? trying to figure out the easiest way of diagnosing without spending a bill at the dealership. I figure I could just tear into the intake first, it would be quite evident yes, or no?
Thanks in advance ...
I have a 2001 Aurora. The outside temperature is reading about 30 degrees to warm. Engine is running at normal temp. I have heat and cooling. Fans seem to be working fine. I do however have to set the ambient temp. a little higher than normal to get sufficient heat. Any ideas as to which sensor it might be.

Kelley ...
My wife has a 2000 oldsmobile intrigue. She will be driving with the heater on and all of the sudden it goes off and the control goes black. Stop turn off car pull key and then restart and it comes back on. Sometimes have to shut off and pull key a few times. Any ideas would be greatly appreciated. ...
My car makes a loud clicking noise that sounds like a gun firing an empty clip. It starts as soon as its started and clicks in 1 second intervals. Sounds like the noise is coming from right above my alternator. Checked alternator and my gears on my belt and nothing is hitting each other and making the noise. Even checked my boots and there tight. Could it be a firing piston or connecting arm ?I'm completely lost and this is my firstt car. Please help. Any ideas or suggestions appreciated. I also forgot to say it still starts up and runs but also has a failing fuel pump and stalls when I turn if I only have a quarter tank of gas. Also stalls rarely on deacceleration. ...
I have a 96 olds silhouette right now have no heat. Took it to the mechanic they've had it for 2 days. After calling several times the guy said he couldn't fix it. He said it was air pockets internally? and it wasn't worth fixing. Last year I had a valve job and head gaskets done was running great. Then this past summer had no cold air. They put in blower motor and now with no heat I have been putting antifreeze in it every couple days then after 2 weeks I have no heat. It was wet on the passenger floor but not much so I thought it was the heater core. Any one with an idea? or is my ride just going to the grave yard? Thanks!

...
i need diagram of vacume hoses for 3800 Oldsmobile 88 1997. ...
Being a bit of a BYM, I have tracked down what seems to be my issue with cold starts. I still have to test this fix, but I am about to and will post about it when I am done.
Like others my car suddenly started with cold start issues. I replaced the IAT, flushed, tune up, oil change. Computer at first kept giving me IAT codes. Well one day i shorted the IAT with some wire just to make it seem like it was 100+ air temp to the computer, I got a new error. I do not remember the exact code but it has to do with the ECT. It sends a reading to the computer of -40 below 0 at temps of 32 and below. This causes the computer to increase the fuel to the engine, aka it floods out. I am going to disconnect the ECT and short it to see if I continue to have problems. If not I will report this. Now I will not assume that it is the sensor causing the reading as it could be a faulty computer as well. Further testing will see. ...
I've inherited this car along with inheriting some electrical nightmares. The latest set happened yesterday. I lost the interior floor lights, horn, radio and it's lights (cassette still works though ...weird), unlock door switches, mirror control....ALL at the same time sometime yesterday while on a 350 mile trip. I've checked and even replaced fuses that weren't broken (none were) but, to no avail. Any ideas? Thanks ahead. ~Gear ...
I have a 2002 Oldsmobile Intrigue that the drive side headlight doesn't work. Replaced the bulb and nothing. Any suggestions?? ...
Thank you that did the trick put in a new relay all is well thank you very much!
...
hi,
I'm having a problem with my 2004 Alero. All of a sudden my speedometer, radio, gas guage, windows and automatic lights don't work. Can turns on and starts just fine. Lights work if manually turned on.

Radio comes on when key is in (ACC). Any advise on what it could be? ...
1999 Olds Aurora, recharged the a/c system this summer, only get tepid air, seemed to be cooler
in the defrost cycle, but not much. Maybe cooler on passenger side? Now that I need heat, I
have a similar problem in that the air is just lukewarm at best and never varies in temp.
Temp gauge reads normal, car runs fine, replaced thermostat and coolant to be safe.
Thanks. ...
p0410 is a code for your secondary air injection. that system forces fresh air into your exhaust stream to accelerate the cat system. won't really affect the driveability of the vehicle just the emissions. However the check engine light being on may affect the driveability because the engine will compensate differently with the check engine light on.

can you supply more information about what you think is wrong with your car?

Where does the sound sound like it's coming from? Does it do it when you press on the brake with the ac on and you are parked? does it show up at very low speeds? Is it only when slowing down from highway speeds? What is a grabbing sound? Do you feel any vibration in the brakes, the steering wheel, the seat, the rear end? has the ABS light come on?

you might want to see if you have a leak in the secondary air injection system. It has an electric pump to pump air and check valves to keep the air going in one direction and plumbing to get it to the exhaust. maybe what you're hearing is a leak in the AIR system. Check valves go bad, (get rusted out) along with metal piping. When the check valve goes bad it allows hot exhaust into the system and could damage rubber hoses. P0410 Check Valves This would cause a noise but won't affect the braking. AC shouldn't really affect it either. Putting the car in neutral will affect the system.

sounds like this is one of those cars where a tech will have to ride with you and have you show what has to be done to make the problem happen. ...
Where are all the ground wires located under the hood on a 2002 Oldsmobile intrigue? ...
I drove my car all night(multiple shut off and start ups), stopped to let a friend out and when I went to start it up it wouldn't even wind over at all, the cd player makes a weird clicking sound and ejected the cd, the gauges spun all around and maxed out even after I turned the key off and took it out. Tried to put the windows up and the trunk popped open. It is seriously like my car is possessed!! Has anyone had any similar issues? Please any help at all would be appreciated!

Oh, and its a 2000 Oldsmobile Alero 3.4 L V6 about 85 000 miles on it.. have been driving it for over a year and no major issues at all. Worked fine all night up until I tried to leave. Went back and tested the battery and it has a lot of charge left.

Also for the past couple months I have had some signal light issues, not sure if that is related to this problem or not. Sometimes when I drive my signal lights will not work, if I leave the car sit for a while or try restarting it a few times they will come back. It isnt the flasher switch as that has already been replaced and when my signal lights are out the 4 way flashers/caution lights still work.

Thanks again!! ...
1998 Olds Aurora giving code P0603 Internal Control Module Keep Alive Memory (KAM) Error. I replaced the PCM still getting the code. Car will crank but not turn over. I was told it could be the body control mudule. I checked the crank sensors and changed the battery. I also tried using starter fluid. Nothing worked. If you have any other suggestions please help. ...
hi i have a 1989 olds 88 with the 3800 engine, i was wondering if it is normal for the exhaust manifold temp. measured with a non-contact gun aimed at the manifold when warm and idling should be 500 to 600 degrees? also the temp gauge runs at 220,the fan seems to cycle at about this temp and hold it in this range. just seems kind of high to me,my other vehicles manifold temps are 200 to 375. thanks for any thoughts. ...
Oldsmobile intrigue heat problem. Would the climate control module be a problem. When I go to put the defrost on it autimatically goes to ac. Any suggestions ...
the coolant level switch built into the coolant recovery tank. sold as a unit. Google "10405607" for picture ...
Coolant level is good. ...
Hi,
Need some assistance in indentifying the part within the attached picture... It is leaking coolant at the base but I cannot find the name so that I can get this fixed.... Thanks in advance.


Picture is for illustration only and was taken from a posting on this specific forum... Thanks Greatautohelp.com for the picture. ...
2001 olds silouette making a dong noise like when an elevator reaches a floor, not very loud but what is it? Should I be concerned? In the middle of long drive, just stopped at rest area. Any help greatly appreciated

It stopped after I stopped at the rest area. ...
I have a 2001 Oldsmobile Intrigue I changes a left hand front turn signal bulb I heard a small pop now I have no turn signals at all and my car wont start no sound or attempt at all everything else seems to be fine ...
1995 Olds 88 with (112 K miles) stalls intermittently, usually when idling (after it clears open loop) and sometimes when decelerating. Stalling frequency increases when there is moisture in the air (high humidity or rain). Once stalled, car starts up again no problems. CEL appears, throws P0401 EGR insufficient flow code. Replaced EGR. No change. Still stalls and throws same code. Checked and cleaned new EGR valve, pintle moving, ports open and clear including at intake. Mechanic friend cleaned MAF, replaced TPS checked all other sensors. No joy. Could intake manifold gasket failure be causing this problem? Un-metered air seeping past intake gaskets causing stall? Any advice appreciated! ...
First check and make sure none of the fuses are blown that control the instrument cluster. If that checks ok, you really need to make sure you've got power and ground at the connector on the back of the cluster. If not, you'd have to find the wiring problem...if you do have power and ground, you have a bad cluster and it would need to be replaced. ...
I've seen quite a few of the sensors go bad in the overflow reservoir. Check first to make sure the coolant level is satisfactory and if you continue to have issues, replace the level sensor. ...
Yes, lots of different things that can cause a misfire on cylinder 3.

Coil, ignition wire, spark plug, injector, etc.

Start with the basics, no need to spend money that don't have to. Check for spark. Pull the plug out and see if it's fouled or if it's cracked, etc. With #3 cylinder being in middle on the back side of the engine, it is pretty much impossible to check the fuel injector or the wiring going to it without first removing the upper intake plenum. This isn't difficult, but if you're not experienced it might be a bit much. You can try and ohm the injector with a multimeter, it should be around 12 ohms. If you have a scanner and a fuel pressure gauge you can also try and do a injector balance test, but since you went to a parts store to get your code pulled, I'm doubting you have the equipment. If there's any noise to the engine, there's also a possibility of a rocker arm that has come off due to the bolt pulling out of the head....but this isn't as common as a fuel injector issue or ignition problem.

Basically, if the ignition components check out, replace the injector. ...
When you turn on the A/C or defrost the idle will ramp up a bit anyway, so it probably seems to run better that way. As for the rough running at idle, it's hard to say if in fact it is actually running rough. If you don't have any misfires, or hesitation/stumble, you probably don't have an issue. 500-600rpm is probably within range, but you didn't specify the year or engine of your oldsmobile, so I can't give you an exact answer.

Possibly it's fine, it just may seem to be a bit rougher than it was. You may be noticing the engine shake but sometimes it's normal as well. If you're not setting any codes, or having the car die out, it's probably ok like the other shops say. You can try and clean out the idle air control valve or the throttle body and see if that that helps any. ...
my 1998 Olds Intrugie has been cooking turn signal /drl bulbs on the right side head light assy. I've replaced said assy feeling it was a defective plug, but the same problem is still occurring..its actually melting.. I'm lost on electrical ...
i have a 1998 olds intrigue and my a/c will sometimes blow hot on the drivers side..(fiqures..) i'm wondering if it's the climate control module.. i have seen quite a few on ebay for sale so i'm wondering if its a common problem. my a/c is fully charged too ...
I have a 2001 Alero 3.4 just to lay out some things I have done when I got it didn't run security light on. I did a fix on the security system by splicing in a resistor inbetween the yellow and black wire going to switch did the relearn and still had some issues checked the switch and it had bad contacts cleaned them and it ran fine but went ahead and but new switch in. Drove car bout 400 miles with a few issues engine light came on abs light came checked codes was rt speed sensor and some emission stuff. replaced rt front wheel bearing it was noisey also and found a broke wire going to that speed sensor , repaired that. then more problems hits some bumps temp gauge quit working and engine light back on next start up temp gauge worked and no engine light. Was heading to work and it died fuel pump not coming on. Swaped relay no change when I run 12v to pump wireing at fuse box it comes on but relay seems to be not working should there be a ground at the location where relay is? I have none. I noticed some corrosion and heard of problems with fuse box so replace it still no change. I can drive and start car with no engine light on if I leave a jumper from one terminal to other. With a known good relay in it wont work on its own the terminal I think is ground for the relay I have 2.4 meg ohm resistance to ground relay has 4 legs at one termial with key on I have 12v one has 5v others have none then the one I hook to that powers the pump I think the other should be ground? been chasings for a week myself took to a trusted mechanic that excells in electric troubles and he is stumped still in his shop now just needing new ideas Thanks for any help i get ...
my 1995 oldsmobile ciera goes down when applying brakes while shifting in gear ...
I have a 94 cutlass ciera 3.1ltr that has a coolant leak. its coming from a about a half inch tube in behind the upper rad hose at the back of the engine block. can you please tell me what this is called where it goes and how to replace it, Do i have to take the intake manifold off.

thanks. ...
Hello. Thought I was a decent "old school" mechanic,(currently building hybrid 1994 302ci SBC using '94 4.3 V8 crank for my 89 S10) but I'm stumped. 1990 Olds Cutlass Supreme SL owned by my grandmother with 82,000 actual on the car. I've kept the car up myself for years. Car always ran perfect, but recently developed bad hesitation or stumble ONLY WHEN COLD, and just off idle. Engine hot, runs perfect. No codes or MIL. First thought was fuel pressure; ckd perfect. Pump was bleeding off slightly so I replaced it anyway. Then ckd EGR; fine. Thought maybe worn TPS; scan tool live data showed it perfect. Thought maybe ign module; have tried 3 different ones along with 2 coil packs-no change. Thought maybe PROM or ECM; have tried swapping 2 different ones-no change. Knowing the 3.1's reputation for intake gasket problems, I changed it; no change. While intake was off I changed O2 sensor while access was easy and fuel press reg just because of it's age. I had already flushed the injectors, but while intake was off, connected fuel rail and triggered each injector 1 at a time; spray patterns looked good and no leaks. Seems to run rich at open loop; isn't that normal? Scan tool data shows integrator at 100+; block learn 120-130, no knock signal or timing retard. Fellow mechanic needs advice-please help. ...
I have an alero 2002. The car worked perfectly until one night I went out to turn the car around due to an upcoming storm. I found it odd cause it took me 3 try to start the car, usually it start on the first turn. The next morning the car wouldn't start. I have check the fuel pump wich seem to be fine cause I got good pressure, I have spark at the plugs. I have change the coil plate above the plugs, I have change the computer behind the glove box and I have change the ignition switch. I have reset the entire thing about 5 times and I can't get rid of the security light and the car won't start. Anybody got any ideas? ...
When I start to drive in wet weather, my Alero put puts in a jerking motion and the Check Engine Soon light starts flashing. After I drive for a few feet this stops and the light turns off. Any ideas on what is wrong with the engine or fuel pump? ...

where is the pressure release valve for the coolant system???? cannot find it. My car continues to overheat. I changed the water pump. thinking maybe trapped air?? cannot find pressure release valve. please help.... theres also no signs of leaks of any kind with head gasket. why is it overheating????? it has new water pump, new radiator. no leaks from gasket...?????? it a 1995 Oldsmobile Aurora 4.0 ...
the question - (see car model details below)
Part 1 - after the tear down and gasket replacement, (head gasket, lower intake) is there special way to align a cylinder head to the engine? Can the head shift in the installation process from where it was previously? Like up to a 1/4 inch? Part II - with steel pressed long hole hydrolic rocker arms, is screwing down the nut until it stops on the bolt acceptable or do i have to do one of those engine running valve covers off adjustment routines with the nut backed off? putting on the alternator bracket it seems the rear cylinder head shifted towards the alternator about 1/4 inch. if that's the case, i can see the front possibly being different than what i've been driving it at. going by ciera cruiser (sedan) manual 87-93 and not finding anything else around has been like operating with one foot tied behind my ear and one hand glued to the rear bumper. thanks for any response

the car -
96 olds ciera cruiser wagon 3100 sfi with more miles than should be allowed ... not just one or two, and not three, but four.. and 70 more to go to get back from the moon..

has 1 engine lifting bracket in front passenger side only, not two like buick centry and others..
could not access front cylinder head bolt #7 until AC/Engine lifting bracket was removed
(nightmare). ...
I just had the intake manifold gasket replaced due to over heating problem. the car ran fine for a week, and after flushing cooling system the upper radiator hose swells up. It seems like it is not passing the coolant through the radiator. The radiato r is hot on the upper radiaor hose side but warm towards the passenger side. The reservior tank is cold and lower rad hose is warm. What could be causing this. Never heated past the 3rd mark on dash. ...
could anyone please tell me where cylinder 1 is located on a 3400 6 cylinder GM engine . i am replacing fuel injector and guy at advanced auto told me it is closest to passenger if you are looking from front of car. but the engine has numbers 1-6 casted on block. thus indicating cylinder 1 is actually closest to front left headlight if you are standing in front of car. im a a little confused. thank you ...
when I make a sharp turn, all my dashboard lights pop on ...
battery dead in morning. replaced battery. 174 ma draw, pull fuses will go down to 107ma. (remove 60amp fuse for bcm, 174ma draw goes down to 130ma draw) (voltage draw goes down to 10.4 from 12.4. when bcm fuse is puled) pull more fuses ma draw is now 107ma. 57000 miles basically garaged. thank you for any help. dave ...
where is the coolant temperature sensor located on a 2001 olds alero. ...
i have 91 oldsmobile with gas in the oil and it is a 3800, want start acts like the battery is dead, some say computer or the fuel regulator? ...
I have 3400 engine in 2000 alero (V6 of course). Been having problem with my antifreeze leaking, So I assume the lower intake gasket again(which I have already replace 6 years ago with no problem) but this time after I replace it I notice coffee color oil (antifreeze getting in the oil). So figure I must have done something wrong so I replace the lower intake gasket again making sure I tighten everything with correct torgue. Still the same problem, if not worst. I took the front valve cover off (because I didn't see any coffee color from the back valve cover last time) to see if I can see where the antifreeze is comming from, I can see the the coffee color oozing on the top of the 2 center pushrods and rockers not quite from the gaskets itself (from what I can see) and white steam comming valley (or between the two heads)and notice bubbling on the bottom (not sure if that is normal). Not really into replacing the head gasket, but before I do, I want to make sure first.
Thanks
p.s. I do have pictures and video if needed ...
My buddy did a engine swap on my 96 olds cutlass supreme and he replaced the coolant temp sensor and not it reads hot on the temp gauge when I start the car can anyone help me it is the 3.1 sfi motor. ...
hi
i have oldsmobile cutlass ciera s v6 3.1
in my car dont install o2 sensor
please help me
how too install this sensor
and ecu how to know this sensor ...
My car cut off on me while driving down the road, decelerating, while about to make a turn. 1998 Oldsmobile Intrigue 3.8L.
Changed oil starter, also turned flywheel manually one revolution. Towed it 8 mi home, removed the starter and the cast iron guard on the end that covers half of the gear was broken off and sitting inside the housing; it was locking the starter up, that I fried by trying it too much.

I'm not getting any codes from this issue, but when I start it, I hear a click now, and nothing happens. ...
I have a 1996 Oldsmobile 98 and I need to take off my starter because my car wont turn over, when I go to take off the starter there is something blocking they way to take off the starter like some type off housing that is holding it in that expands into the fly wheel. I have pictures if you would like to see. ...
husband needs to know the location of timing sensor ...
When applying the brake whit the head lights on, the reverse lights come on the hazard lights come on (not flashing ) with the left turn signal and brakes applied the left front and rear lights flash really fast and the high mount stop lamp also flashes . Help please ...
I have a 2000 Oldsmobile silhoutte and the TRACTION SISTEM SERVICE light on. ...
I am still looking for a new key activation sequence for my 1992 olds 88 royale. any help deeply appreciated. ...
shawnee (1/1/2013 2:14:29 PM)
i have a 1999 3.4 olds alero, which i have dropped a 2001 impala 3.4 in. i recently replaced the heads on, got all back together and started it. it had a random cylinder misfire, after new wires and plugs, coil packs(all of them), i came to the conclusion it was the injectors. so i remove them cleaned them and reinstalled them, started it and got only a #6 misfire. so i pulled the plug, it was soaked w/ gas, so i switched #5 and #6 injectors, to see if it was just a bad injector, and got random cylinder misfire again. i pulled both plugs and 6 was wet but 5 was dry. after checking for any open grounds or breaks in wiring,i figured it was the PCM. i bought one from a 98 3.1 malibu, same exact SVR number and the pinout is exactly the same, but after plugging this one in and turning on key it doesn't turn on the fuel pump. do you think this one is bad too, or do i have to have it flashed? ...
Fuel pump,filter and injectors seem to be working fine. Security light keeps flashing. Is there a way to bypass this.I've tried disconnecting the battery,at one point for 2 hours. ...
i have 1992 olds 88 royale. for replacement ignition key, what is activation sequence?. ...
Recently changed wipers with aftermarkets and worked well for a few weeks however now when i shut them off instead of completing the cycle and then dropping down they stop at the top of the cycle right in my site line.computer? ...
All of my lights are currently working in my car except for the fog lights. I also noticed to that when I put my cell phone car charger in the cigarette lighter that it does not work either.

Could it be a fuse or something else is going on?
Do you have any suggestions as to what I can do to get them to work again? ...
My 2000 Alero will try to start but will not catch. I have been told it could be the fuel pump, fuel filter and the ignition sensor. The first two I can fix myself but I need info on the ignition sensor. What does it do? Where is it located? Is it easily replaced by a back yard mechanic? Are they expensive? Is there a recall for them? ...
What model and year Oldsmobile is this?
What is the engine size please. ...
I just purchased an 01 Bravada with 140k miles. Good shape, now I get service engine soon, ABS & brake light, service 4x4 and fuel gage will read empty with low fuel light. All random and sporadic. HEEEELP. Bought this for my daughter and I'm not comfortable with her driving it. ...
changed my fuel pump in my 2000 bravada and it started and ran good for about a day next morning started right up and drove fine came home and went to leave again and it wouldnt start what couyld of happend please help ...
Hi I need a diagram to see where I have to ground the wire on the fuel pump... I am having the worst time finding an accurate DETAILED diagram, so that I can correctly ground the wire... Please, any help in the right direction ould greatly be appreciated. Thanks, Katie ...
My 2000 alero is overheating it has 200,000+ miles and have changed thermostat six months ago and it fixed it for a while now it leaks water. What would be most logical choice to fix this before i go for waterpump? ...
why dose my trany sound like its a electric motor when its slowing down and takeing off no slips or hard shifting? ...
what is approximate cost to repair the A/C on a 1999 Olds Aurora ...
where is the knock sensor located on a 1994 oldsmobile cutlass supreme. thanks for your help. ...
2001 Aurora giving 4 codes, P0102, P0113, P0385 and P0102 pd, I am thinking probably the P0385 is causing my main issue, it die's driving down the road for no reason, starts right back up no problem but just shuts off without warning...??? ...
That price is too high for the parts. You should be able to find them cheaper- non factory parts. The valve on the rear of the engine is the hardest. The 10mm bolts are very hard to get to. The front one is not too bad. See this link for more info... Oldsmobile Secondary Air Injection Valves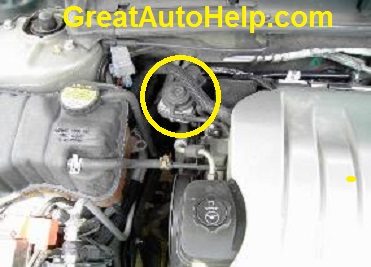 ...
how do I get the altwernator out of my Aurora, though the fender well
or do i take out the core support ...
It actually is NOT anything to do with the heater core getting hot water. You have a problem inside the heater case, and could be even two different issues. The mode door actuator is what controls the airflow from different vents, so it is probably failed. The temperature door actuator is what controls the hot/cold air from either the heater core or evaporator core, and it too sounds like it failed. The noise you were hearing was one or more actuators trying to move the associated door it/they control. When there is problem such as binding or a failing motor inside the actuator it will make a loud clicking type noise. You will need to replace any and all actuators that have failed. This can be very involved, requiring the entire dash to be removed. Not for an inexperienced person to take on. If you feel you cannot do the repair, it's best to take it to a shop. ...
Most likely the problem with your Oldsmobile is the hazard flasher switch. The switch to the right of the instrument cluster also has the turn signal flasher internal to it. If it were unplugged or faulty it would affect both the turn signals and the hazard lights. Try pressing the button in very slowly to see if you can get any lights to flash or flicker. That would indicate the switch is bad. If nothing at all happens it may be unplugged. Remove the trim around the dash cluster and get your hand behind the dash to see if that hazard switch is plugged in. ...
Interior light fuse blows when replacing. 2003 Olds Aurora. Will last a couple of days but now blowing upon replacement. ...
Sounds like you're about have an engine failure! The knocking/clicking noise is most likely a rod knock, or lifter tick associated from being overheated. If you are putting that much coolant in every single day, you have a major problem. You can be sure it's burning coolant in one or more of the cylinders due to a blown head gasket, leaking intake gasket, warped cylinder head, cracked block, or all of those combined. If you continue driving it that way, it will only get worse and the engine will end up blowing and locking up due to internal failures. As far as your electrical problems, it sounds like a body control module that is shorting out intermittently that is causing your issues. There could also be corrosion on either of the inside fuse boxes due to water intrusion over the years. That is common on your style vehicle. Your main problems are the knocking and losing coolant, and should be addressed first. ...
Assuming the coolant level is full, this problem could be a plugged heater core. You can remove the hoses from the core at the firewall and run a garden hose on full blast into one hose, then into the other hose. look for debre to come out, then the water to get clear.
If the engine is the 3400 v6, you could also have a headgasket problem. A blown headgasket will pump compression into the cooling system causing air pockets. Air pockets cause a no heat condtion. The rear head is common for this. Removing the spark plugs and looking for them to be corroded from burning coolant is one way to check for this. ...